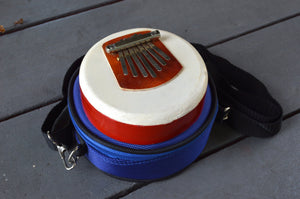 The Sansula is a member of the Kalimba family of instruments. It is mounted in a drum, which creates a variety of overtones and vibrations from the resonance of the Kalimba and membrane. It also creates a wah-wah sound when moved vertically up and down on a flat surface. Tuned to E Minor, but can easily be tuned to nearby keys and scales as well. These have a beautiful wood carving on the bottom.
Comes with nice soft carrying case (color may vary).
These sansulas may have minor cosmetic imperfections that do not affect playability or sound.